7 Tips to Sell Your Home In LAS VEGAS Quickly!!!
7 Tips to Sell Your Home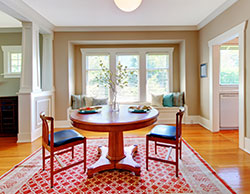 Even in an improving market, selling your home is a stressful experience. There is a lot you can do to make it go smoothly. Here are some of the best ideas:
1. Start repairs and improvements as soon as possible. If you're unsure about the soundness of your home, have your own professional home inspection. This can keep a deal from falling through and save more than it costs. Keep a copy of the inspection to reassure prospective buyers and note any repairs you've made. If you're doing repairs yourself, get them done before the property goes on the market. It's nearly impossible to work on a home when it's being shown.
2. Avoid over-improving. You may hate your kitchen counters, but buyers may prefer a lower price to new ones. Ask your real estate agent for advice before undertaking any major upgrades. Beware of spending a fortune on improvements without a corresponding increase in selling price.
3. When in doubt about inexpensive improvements, do them. It may be a hassle to fix that sticky closet door or re-grout that tub, but you'll be kicking yourself for skipping it when buyers notice and complain.
4. Consider a consultation with a stager. If you're going to use a stager, don't paint or buy décor without talking to the stager first. You may find that you were about to do all the wrong things. Remove and sell or store anything the stager says must go. If your furniture is shabby or dated, consider renting furniture from the stager.
5. Know the difference between staging and decoration. If you're planning to spruce up your home yourself, be sure you don't make things worse. Decorating is all about personalizing your home; staging is the opposite. Staging is very clean, almost minimalist, while decorating can be much busier. The point is to give the buyers a starting point for their own imaginations of what your property could be.
6. Remove pets from the premises. When you are in a hurry to show your home you don't want to be cleaning up after your pet's accidents. If you can't remove your pets, think about confining them to a tiled or concrete-covered area, which will at least minimize the problem.
7. Don't assume. Just because the market is hot doesn't mean your home will be, especially if it's badly located or has unusual features that aren't popular with buyers. If money is an issue, keep yourself on a tight budget until the deal actually closes.
Selling your home is no fun, but a little forethought and effort will keep the experience as pleasant as possible and get you a higher price.
Speak to one of Luxury Homes of Las Vegas Specialists today –  call 702-588-6868.
SEE ALL LAS VEGAS LUXURIOUS COMMUNITIES HERE:
las vegas luxury homes, luxury homes las vegas, las vegas homes, homes las vegas, http://www.myluxuryhomesoflasvegas.com , Lake Las Vegas, Las Vegas Apartments, Las Vegas Bank-owned Homes, Las Vegas Foreclosures , homes las vegas, http://www.myluxuryhomesoflasvegas.com, Las Vegas Dream Homes, Las Vegas Estates, Las Vegas homes, Las Vegas Luxury Home Specialist, Las Vegas luxury homes, Las Vegas Luxury Real Estate, Las Vegas Mansions for sale, Las Vegas Real Estate Sales, Las Vegas Short Sales, luxury homes Las Vegas, Luxury Las Vegas Real Estate, Short Sales Las Vegas