Will I Owe Taxes for the Sale of My Home?
Will I Owe Taxes for the Sale of My Home?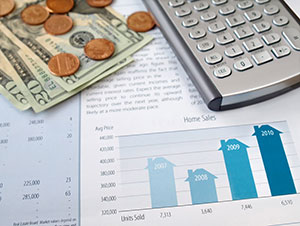 If you're selling your primary residence, chances are you can avoid capital gains taxes entirely. The Section 121 Exclusion of the federal tax code specifies that the first $250,000 ($500,000 for joint filers) of profit is exempt from capital gains taxes if the seller has owned and lived in the property as their primary residence for at least two of the preceding five years.
Two Year Rule Exceptions
Even if you have not lived in the property for at least two of the last five years, you may still be able to exclude a certain amount of the profit from the sale from capital gains taxes. The tax laws are fairly forgiving toward those whose failure to remain in their home as their primary residence for the required minimum years is due to factors beyond their control. Possible reasons for exempting profit from the usual taxes include if you sold your house because you had to relocate for work, for health reasons, or for other "unforeseen circumstances."
Calculating Profit
The base price from which to calculate profit is not limited to the price you paid when you purchased the property. If you bought a house for $300,000 and sold it for $350,000, it doesn't follow that you necessarily have to show a profit of $50,000. You can add to that $300,000 whatever you paid in closing costs, as well as certain permanent home improvements you paid for, such as if you put a new roof on the house, thus lowering your profit.
For more details, download Publication 523 entitled "Selling Your Home," from the Internal Revenue Service (IRS) website: (www.irs.gov/pub/irs-pdf/p523.pdf).
Speak to one of Luxury Homes of Las Vegas Specialists today –  call 702-588-6868.
SEE ALL LAS VEGAS LUXURIOUS COMMUNITIES HERE:
las vegas luxury homes, luxury homes las vegas, las vegas homes, homes las vegas, http://www.myluxuryhomesoflasvegas.com , Lake Las Vegas, Las Vegas Apartments, Las Vegas Bank-owned Homes, Las Vegas Foreclosures , homes las vegas, http://www.myluxuryhomesoflasvegas.com, Las Vegas Dream Homes, Las Vegas Estates, Las Vegas homes, Las Vegas Luxury Home Specialist, Las Vegas luxury homes, Las Vegas Luxury Real Estate, Las Vegas Mansions for sale, Las Vegas Real Estate Sales, Las Vegas Short Sales, luxury homes Las Vegas, Luxury Las Vegas Real Estate, Short Sales Las Vegas