4 Kitchen Renovation Ideas to Add Style and Function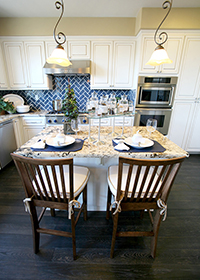 The kitchen is the second most renovated room in American homes after the bathroom. Now, more than ever, it's the heart of the American home. There are basic kitchen renovation ideas that appear on everyone's list of wants—hanging lights are a must—and more extravagant ones that most of us can only dream about (like the walk-in pantry). Here are four upgrades that will add style and function to your kitchen.
1. Wood floor.
Yes, this can be a high-maintenance item, since the possible consequences of liquid spillage can never be completely eliminated. Despite modern advances in surface treatment, you have to be willing to wipe up spills quickly. Yet those sacrifices are definitely worthwhile: there is no other kitchen floor covering that approaches wood for warmth and atmosphere.
2. Separate oven at chest height.
The functional aspect is key here. Every action involving the oven is so much easier (and safer) when the height is elevated. You'll never again have to bend down low—and risk straining your back—to take the Thanksgiving turkey out of the oven.
3. Kitchen island.
The island is here to stay! It is a brilliant idea that serves many purposes—it provides extra counter space, facilitates the social aspect of kitchens, and—when stools are added—doubles as a breakfast or lunch perch. It's great for families and it's perfect for parties.
4. Glass-front cabinets.
It's just a matter of time before everyone wants them! It makes finding things so much easier. And, when lighting is arranged properly, a cabinet containing fine china or crystal can be a visual focal point.
Speak to one of Luxury Homes of Las Vegas Specialists today –  call 702-588-6868.
SEE ALL LAS VEGAS LUXURIOUS COMMUNITIES HERE: