LAS VEGAS – What Do Buyers Pay in Closing Costs?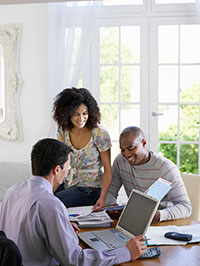 A real estate closing is the time when all the agreements between the buyer and the seller are finalized. Since most closings do not involve a cash purchase, the final mortgage agreement is also signed on this day.
Lenders will provide buyers with a good faith estimate (GFE) of closing costs at the beginning of the loan origination. The day before closing, buyers will a receive a HUD-1 Settlement Statement itemizing all charges.
What makes up closing costs?
Buyers can expect closing costs to total between two to five percent of the purchase price. Closing costs are usually comprised of some of all of these components:
Loan origination fee. This is the fee mortgage companies charge to initiate loans. Often, the fee is one percent of the loan.
Discount points. Paying points is a means of buying a lower interest rate. Points usually range between one and three percent of the loan.
Loan application fee. This is the fee the mortgage company charges to run a credit report and determine a buyer's credit worthiness.
Initial interest. This is the first month's interest. Since interest is paid in arrears, subsequent months are covered in the mortgage payment, but the first month is not.
Appraisal fee. The mortgage company wants to make sure they are not lending more money than could be recouped from the sale of the property if the buyer should default on the loan. Therefore, they need to do an appraisal that confirms the property's true value.
Survey. A survey indicates exactly where the property lines are and where buildings and other improvements are located on the property.
Private mortgage insurance (PMI). PMI is insurance that buyers must purchase to protect the mortgage company in case they default on the loan. This fee can be avoided by making a down payment of at least 20 percent.
Title search. A title company makes sure that the buyer is the new legal owner of the home. Sometimes title insurance is also included in this fee.
Property taxes. An escrow account may be set up so that the mortgage company can make sure all property taxes are up to date.
Homeowners insurance. The mortgage company will not finance an uninsured property. If the property is in a flood plain, flood insurance is also required.
Government fees. Governments levy taxes and fees on the sale of the property and on the transfer and recording of the deed. The amount of these fees varies by region.
The above list covers the majority of closing costs associated with buying real estate. However, some special cases may include additional, less common fees. Some of the aforementioned fees, such as the loan origination fee, may be negotiable. Therefore, negotiating with your mortgage lender to arrive at the very best loan package for your lifestyle is a good idea.
Speak to one of Luxury Homes of Las Vegas Specialists today –  call 702-588-6868.
SEE ALL LAS VEGAS LUXURIOUS COMMUNITIES HERE: