National Housing Market Trends – Las Vegas Real Estate
National Housing Market Trends
Photo: © gregobagel – iStockphoto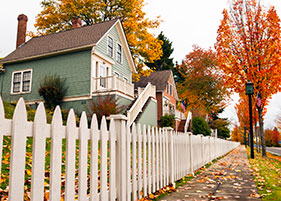 Home sales are up, setting the highest pace since February 2007. In August, total existing home sales increased by 1.7 percent, setting a sales pace 12.2 percent higher than a year earlier. What's more, every region posted year-over-year gains. Existing-home sales in the Northeast remained steady between July and August but were 12.7 percent higher than a year earlier. The Midwest and South also saw year-over-year increases, with sales reaching 18.9 percent and 13.5 percent above August 2012 levels, respectively. Although the West saw sales decline 2.3 percent between July and August, sales were still 7.7 percent higher than a year earlier.
A Shortage of "For Sale" Signs
While the total housing inventory rose 0.4 percent at the end of August, this reflects only a 4.9 month supply at the current sales pace. Some regions of the country have such a short supply of homes available for sale that multiple bids are the norm, not the exception. In August, 17 percent of all homes on the market sold above asking price. Deals were still to be had in some regions, however, with 63 percent of all homes selling below the list price.
Who's Buying?
First-time buyers accounted for 28 percent of all home purchases in August, down from 31 percent a year ago. Of all August transactions, 32 percent were all-cash sales. The large majority of all-cash buyers are individual investors; this group purchased 17 percent of all homes on the market.
Great Deals in Short Supply
Foreclosures sold at a 16 percent discount, while short sales were discounted 12 percent. Bargain hunters were limited in their choices, however. Only 12 percent of all August home sales were distressed homes, a significant improvement when compared to the 23 percent of distressed homes on the market last August. This is the lowest market share since analysts began tracking the number of distressed homes in October 2008.
More Construction
Though the latest reading of the National Association of Home Builders/Wells Fargo Housing Market Index remained unchanged, builder confidence is still at the highest level in nearly eight years. Builder confidence is high in part because more buyers are walking through their sales office doors. After a slight dip in sales activity in July, new home sales are on the rise once again. Sales of newly-built, single-family homes rose 7.9 percent, showing that consumers are taking the recent increase in mortgage interest rates in stride.
Speak to one of Luxury Homes of Las Vegas Specialists today –  call 702-588-6868.
SEE ALL LAS VEGAS LUXURIOUS COMMUNITIES HERE: