Essentials for a Relaxing Outdoor Living Space – LUXURY HOMES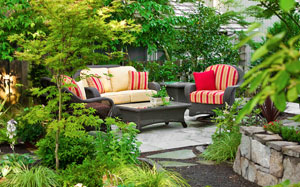 Most backyards have a deck or patio, but many Las Vegas Luxury homeowners are following the trend of upgrading these spaces to include more of the comforts of indoors.
As you survey your existing deck, patio, or the grassy spot you hope to convert, you may wonder what makes those magazine photos of outdoor areas look so much more inviting.
Elements of Nature
Allowing Mother Nature into your living area is the key:
Natural Light: How much sun and shade will you allow? Great outdoor spaces have a portion of both. Some shade for seating areas is a must, but don't forget those seasons when basking in the sunshine is favorable.
Water: The sound of running water can be relaxing. Test any feature before you buy it; some features sound less relaxing than others.
Wood, Rock: You really can't go wrong choosing these materials in the best quality you can afford. The way they are incorporated can make a big difference in your budget.
Plants: So much more than just accessories! Lacking a green thumb? Not to worry; easy-care plant choices abound, many of which remain green year-round.
Wind: Buffer the seating area from prevailing winds with walls. Choose a natural screen like a hedge of evergreens or a vine-covered trellis.
Elements of Home
Ah, the sweet comforts of home. Surprisingly, your room can hold up to the rigors of the great outdoors when you choose materials wisely.
Warmth: Make your outdoor space usable year-round with a fireplace or fire pit. Some fireplace units double as a grill.
Walls: Aside from blocking the wind, walls help define a space and offer privacy. Choose from materials like brick, stone, wood, and bamboo…the design choices are plentiful. A short wall with a capstone doubles as extra seating, a bar or a buffet.
Light: Plan for task lighting for a sheltered area or outdoor kitchen. String lights and hurricane lanterns lend a soft glow to evenings.
Rugged Textiles: Furnishings for outdoor spaces (carpets, upholstery, cushion filling) are designed to hold up longer against sun and rain.
Simplicity
Planning for clean lines, a color scheme and a repetition in plants, textures and shapes make the scene easy on the eyes. Outdoor living areas remain relaxing if you keep easy maintenance a priority in the planning stages. Not only does this keep chores to a minimum throughout the seasons, but low-maintenance features also mean saving on upkeep in the long run.
Why is an outdoor living space so unique? It's not completely indoors, and not completely out. It's a very special place for communing with nature, socializing with friends and family, or just getting away without really leaving home.
Speak to one of Luxury Homes of Las Vegas Specialists today –  call 702-588-6868.
SEE ALL LAS VEGAS LUXURIOUS COMMUNITIES HERE:
las vegas luxury homes, luxury homes las vegas, las vegas homes, homes las vegas, http://www.myluxuryhomesoflasvegas.com , Lake Las Vegas, Las Vegas Apartments, Las Vegas Bank-owned Homes, Las Vegas Foreclosures , homes las vegas,http://www.myluxuryhomesoflasvegas.com, Las Vegas Dream Homes, Las Vegas Estates, Las Vegas homes, Las Vegas Luxury Home Specialist,Las Vegas luxury homes, Las Vegas Luxury Real Estate, Las Vegas Mansions for sale, Las Vegas Real Estate Sales, Las Vegas Short Sales, luxury homes Las Vegas, Luxury Las Vegas Real Estate, Short Sales Las Vegas