Outfit Your Front Porch for Easy Summer Living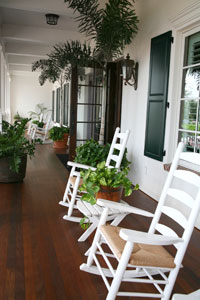 If you want to increase your home's communal square footage without adding a room, the perfect answer could be right outside your front door. An existing porch is the ideal spot for entertaining or relaxing. Make it happen with strategic decorating to make your porch feel every bit as comfortable and inviting as your indoor living areas.
A Private, Shady Nook
A scenic view is nice, but what if the neighborhood is too close for comfort? What if your east-facing porch is roasting in the morning—and it's not the coffee? The solution is to give your porch what your indoor living areas have, walls. Even movable walls create an intimate, private feel, and lend shade when it is needed. Canvas curtains and roll-up bamboo shades allow you to have both with minimal cost and maximum ease. Explore your options for the look you want to achieve.
A Floor Worthy of Bare Feet
A barefoot friendly floor begs you to kick off your shoes and stay awhile. A fresh coat of paint on wood or concrete is always acceptable for porch living, though you might prefer a stain. Outdoor carpets offer an even cozier solution, and they have the added advantage of drawing definition to your seating areas.
A Comfortable Seat
No matter what style of furniture you prefer, the first rule should be comfort when it comes to porch furniture. Whether you love flowery cushions or spare wood, comfort is achievable through good design. The Adirondack style chair is a good example of comfortable design that does not require extra cushioning, if crafted right. However, it's a bit of a space hog. Outdoor furniture can be quite affordable, but plan to devote the larger portion of your budget to quality, comfortable, durable seating.
Multifunctional Furniture
Make the most of your space by finding ottomans, stools, benches, coffee tables, or end tables that do double or triple duty as seating, storage and serving pieces.
Warm and Cool
Beat the heat and enjoy being out on the porch by installing ceiling fans to stir the summer air. Another cool trick is to paint the porch ceiling a sky blue, said to dissuade pesky insects from building nests, at least according to Southern tradition. Imbue evenings with the warmth of soft lights—strings of bulbs are available in many styles—or use lanterns. Stow a few lightweight throws in storage spaces for cool nights.
Creating an inviting porch is a worthy project for any home, whether you intend to use it for drinking coffee alone or serving drinks and socializing with family and friends.
Speak to one of Luxury Homes of Las Vegas Specialists today –  call 702-588-6868.
SEE ALL LAS VEGAS LUXURIOUS COMMUNITIES HERE:
las vegas luxury homes, luxury homes las vegas, las vegas homes, homes las vegas, http://www.myluxuryhomesoflasvegas.com , Lake Las Vegas, Las Vegas Apartments, Las Vegas Bank-owned Homes, Las Vegas Foreclosures , homes las vegas,http://www.myluxuryhomesoflasvegas.com, Las Vegas Dream Homes, Las Vegas Estates, Las Vegas homes, Las Vegas Luxury Home Specialist,Las Vegas luxury homes, Las Vegas Luxury Real Estate, Las Vegas Mansions for sale, Las Vegas Real Estate Sales, Las Vegas Short Sales, luxury homes Las Vegas, Luxury Las Vegas Real Estate, Short Sales Las Vegas