Don't Make These Mistakes When Choosing a Home Improvement Contractor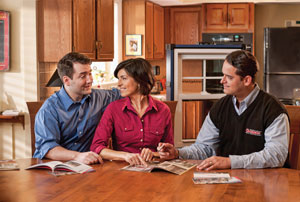 Consumer complaints and lawsuits regarding home improvements are on the rise according to Ripoff Reports; a homeowner that does not do their homework before embarking on a project could find themselves with poor workmanship, inferior products, health and safety issues or even legal problems.
So what's a homeowner in need of a fix up to do?
"Start by reviewing the three most common mistakes people make when embarking on a home improvement project," says Dave Harrison, chief marketing officer of Champion Windows, Sunrooms, Roofing and Home Exteriors (www.GetChampion.com), one of the nation's leading home improvement companies.
1. Buying Only on Price
Your home is probably one of the most expensive items you own, so making improvements is not the place to budget shop.- "Make sure you are getting quality products professionally installed. A properly done home improvement should only have to be done once," added Harrison, "and remember the old adage 'you get what you pay for'."
2. Not Looking at the Long Term Investment Benefits
When your home improvement project is finally over, you should be getting more than an upgrade to your home; you should also see an increase in your home's value. When you do it right you can reduce energy and maintenance costs and increase comfort and pride in your home, and never have to worry about it again for as long as you own your home.
On the flip side a poorly executed project can lower the value of your home, have to be re-done in several years and even put your family's health at risk. For example, water damage from faulty windows could cause mold.
3. Not Knowing How to Screen a Contractor
"I've seen many independently owned contractors close their businesses after a short year or two," said Harrison. "When selecting a contractor to work with it is important to get a sense of who they are, what products they use and how long they have been in business."
According to Harrison there are four essential questions to ask during this screening process:
– Who designs it?
– Who builds it?
– Who installs it?
– Who guarantees it?
"When you don't get the correct answers to these four questions you may end up with an inferior investment, expensive surprises, property damage or even lawsuits and liabilities," says Harrison. "Ultimately, the answer you want is that there is a single source of accountability for your project. Having one company design, build, install and guarantee the product and work, as Champion does, can save you time, money and hassles in the long run."
Make sure you have a contractor relationship you can trust for the long-term. This long-term relationship starts with a quality product and professional installation and includes a lifetime warranty from a company that has longevity and provides you with a sense that they will still be in business five or ten years down the road. -You should also ensure that your warranty is transferable, applies to all systems, applications and materials, and is non-prorated. A non-prorated warranty is considered to be the most valuable as it means that the manufacturer or seller will replace or repair the item at no cost to the buyer if there is a problem with a product.
Speak to one of Luxury Homes of Las Vegas Specialists today –  call 702-588-6868.
SEE ALL LAS VEGAS LUXURIOUS COMMUNITIES HERE:
las vegas luxury homes, luxury homes las vegas, las vegas homes, homes las vegas, http://www.myluxuryhomesoflasvegas.com , Lake Las Vegas, Las Vegas Apartments, Las Vegas Bank-owned Homes, Las Vegas Foreclosures , homes las vegas,http://www.myluxuryhomesoflasvegas.com, Las Vegas Dream Homes, Las Vegas Estates, Las Vegas homes, Las Vegas Luxury Home Specialist,Las Vegas luxury homes, Las Vegas Luxury Real Estate, Las Vegas Mansions for sale, Las Vegas Real Estate Sales, Las Vegas Short Sales, luxury homes Las Vegas, Luxury Las Vegas Real Estate, Short Sales Las Vegas